I love this time of year, my wife and I particularly like going to markets in general, so it was a real treat to be able to visit the established 'Toronto Christmas Market', especially as it was only open from November 20th to December 20th.
It takes place in the Distillery Historic District (1832). This place is very interesting as a small group of developers wanted to transform an area of Victorian buildings that would create something very special for Toronto:
"Our vision was to combine the romance and relaxing atmosphere of European walking and patio districts with the hip, cool dynamic of an area like New York City's SoHo or Chelsea, where creative minds get together and you feel as if anything could happen."
47 buildings were renovated and brought back to life and the area really does have a very magical feel to it, very different from other parts of Downtown Toronto. The fusion that has been created between the industrial Victorian presence and modern art and creativity is stunning. It is very young too, established in 2003 it has become renowned for entertainment, art and culture.
http://www.thedistillerydistrict.com/
http://www.torontochristmasmarket.com/
The variety of stalls were excellent, there was so much to do, much more than I expected, from music and dance to great food and activities for old and young. My girls had a specific favourite stall…the one that sold the Russian Dolls, the stall was inviting and the range on display was fantastic, I didn't realise they went so small!
Lucky enough to see some local talent, wonderful entertainment kindly provided to really lift the spirits, they did a marvelous job as they had quite a large crowd singing along with them, you can see more on the video.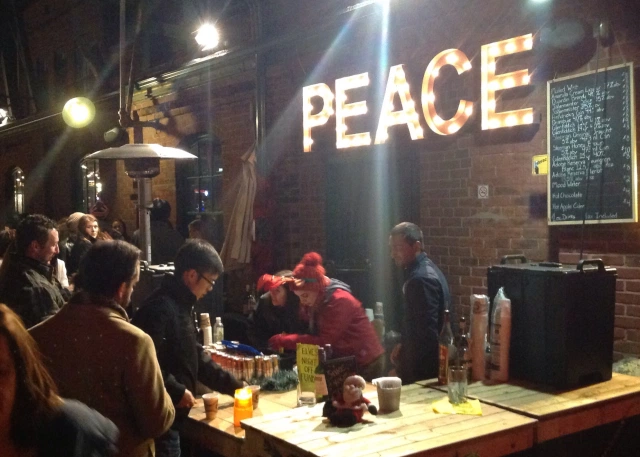 We went with some members of our family and had a very festive time, the atmosphere really brings warmth and provides a feeling of togetherness. Walking around, you can't help but feel a little 'Ho, Ho, Ho'…
As you can see from the photos, the place was packed, so we decided to go for some coffee in a place that has excellent reviews and we wanted to experience some quality coffee while we were out. Balzac's Coffee is really something, it is one of the coolest coffee shops I have been in…